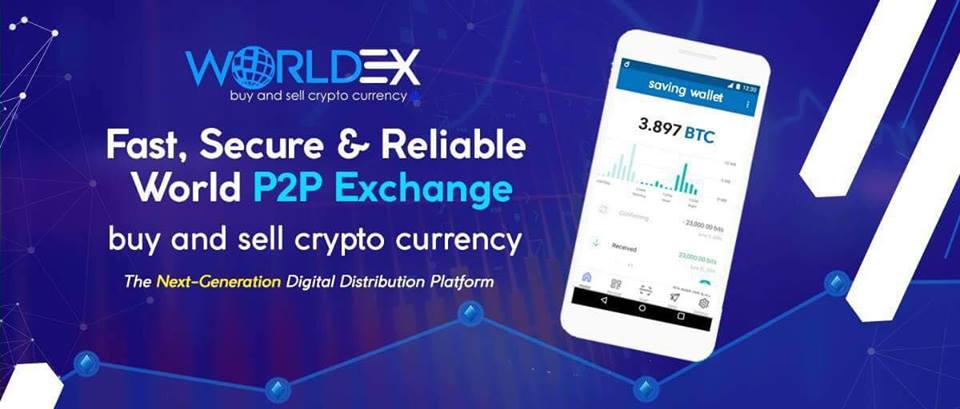 A New Era of Cryptocurrency Trading
WorldEx was launched with the mission of making buying and selling Cryptocurrency convenient with fast and safer transactions. We today are a premiere Cryptocurrency exchange, offering selected electronic currencies trading, for now, such as ZZC, BTC, ETH, and USDT. The process of setting up your account is simple; you can sign up for an email address, submit a personal id for verification and start trading. To maintain the trust, we have developed a knowledge portal with immense opportunities for sharing experience and ideas.
Our Mission- Fast, Secure & Easy
WorldEx is a platform created for the democratization and development of crypto trading. With the extensive research and experience, we want to solve the real problems in current exchanges with this fast, secure, advance but yet simple platform. The coins stored in the wallet can be accessed anytime from the convenience of your home or office, all you require is a smart device and Internet connectivity. We lay strong emphasis on strengthening the level of trust among the private investors taking Cryptocurrency trading to another level of popularity worldwide.
Always Committed To Our Clients
We want to have long-term relationships with our clients, thereby; we've built our business around our customers' needs and addressing their pursuit of Cryptocurrency trading profitable. We show our commitment towards our clients, by updating your system for any possible security threats.
Why Is WorldEX the Best Digital Currency Gateway?
1. Advanced Technologies & Best Practices
We founded WorldEx platform to bring our wealth of experience and knowledge to Cryptocurrency market. We have a squad of Blockchain developers to build an exchange ready for today and tomorrow.
2. Safe Transaction Is Our Top Priority
WorldEx puts complete focus on security. For us, nothing is more important than ensuring your personal data is safe and secure with us in the Blockchain. Adopting a broad standard for Information Security Standards, WorldEx positions to be fully ISO 27001 and 27002 that maintains to ensure information assets are secured. To know more about our security protocols, click here.
3. Swift & Fast Transactions
At WorldEx, we aim to deliver coins in your secured digital wallet in quick time, as soon as you place an order. Thanks to faster transactions, you now have the luxury to buy and sell Cryptocurrency anytime to make big gains. Plus, you can buy Cryptocurrency using trusted payment methods like the PayPal, Credit Cards, and many others.
4. Easy Cryptocurrency Trading-Creating The Account Is Simple
Cryptocurrency trading can't get easier than ever, the online thing required from your side creates an account (or download the mobile App for trading via your smartphone) for Cryptocurrency exchange. You can now purchase in no time.
5. Become a Member of the Digital Currency Revolution
Join today to enjoy the monetary perks of Cryptocurrency trading. Last, rest assured, funds deposited in your account is safeguarded. For any doubt or information, reach out to us now.
CRYPTOCURRENCY EXCHANGE
The WDX is a next-generation digital distribution platform for cryptocurrency exchange. The WDX offers a groundbreaking motivational and multilevel referral system.
INVESTORS' BENEFITS
Personal five-level referral program
Earnings from personal and joint achievements
Monetization of content created
Syndication to earn from joint activities
Personal five-level referral program
Multilingual 24/7 customer support service
Target and content-generating audience at the start of the project
Simple techniques to get internal and external traffic
WDX Tokens: The Key Benefits
WDX tokens are a priority internal mechanism for interaction on The Abyss platform. Earnings from referral and motivational programs are paid in WDX tokens. The majority of internal services rely on WDX tokens only
Motivational and Referral programs, Auction, Internal CPA Network and Syndicates rely on WDX tokens only
Unlike fiat payments, when paying for game purchases with WDX tokens, users are granted a discount
1/3 of the platform's commission from the internal CPA network and the auction transactions will be burnt by smart contract
TEAM
QUICK LINKS