Video streaming is the new norm leave alone downloading, and when you are watching a video online, the website's server is sending you the content in real time. However, streaming still remains expensive, and worse still when you travel and wish to keep up with a series of videos, you find that the area you is placed under restriction so you cannot watch the content. Using VPNs, it is an uphill task to bypass the restrictions and this motivated the team behind Monvid to establish a blockchain platform that decentralizes streaming.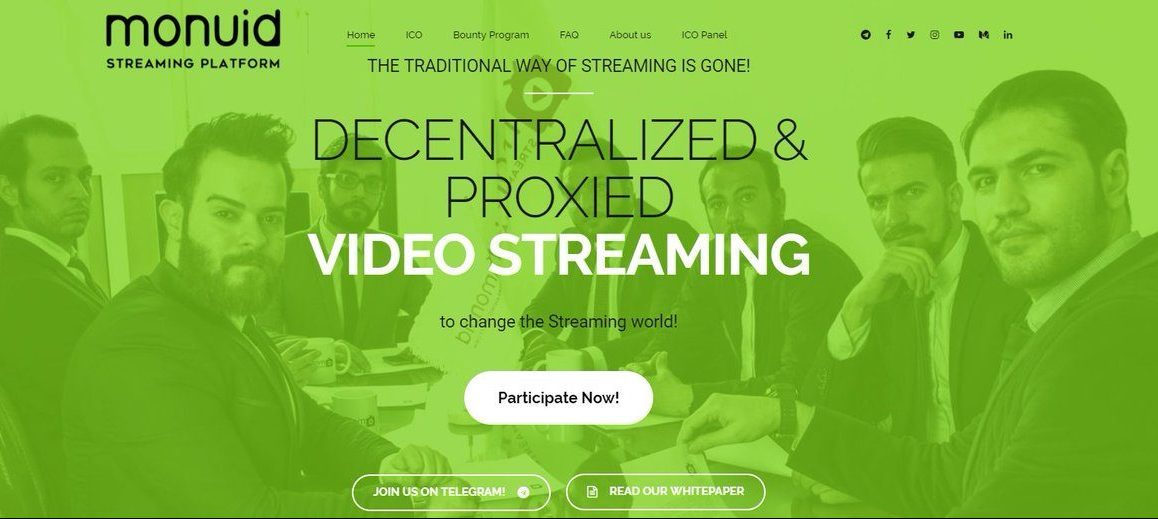 Monvid's platform allows users to stream content without the restrictions no matter which part of the world they are in. Their solution comes in two parts, P2P video sharing that will allow content creators and owners to share their videos with everyone free of charge, and the community of users can reward them for the video with MVID. The other part is proxy video streaming, which is a platform that gives the users the ability to bypass any restrictions that would have hindered the streaming of videos on the P2P video sharing platform.
Monvid tokenThe Special Features of the Monvid Platform
• The founders of this great platform were determined in providing its users an encounter of watching their best videos without any kind of restriction.
• Everything here is anchored on the Blockchain technology.
• The platform also entirely pursues the scalable video streaming platform that can be used to lower a number of costs and save time.
• Monvid ICO gives its users a unique approach to video streaming; something that has never happened in the entire industry.
• To offer unlimited, reliable as well as unrestricted video streaming, Monvid platform intends to apply two main distinct modes.
• Monvid has also harnessed the Blockchain technology's decentralized network so as to offer better services than what is currently available in the industry.
About the Proxy Streaming
Geo-blocking is one major mode in which the use of the Internet is restricted in various places across the globe. This is a method in which Internet access is only limited to particular geographical regions.
Monvid allows its consumers to easily cut-pass such geographical restrictions without having to compromise on the lowered speed of the Internet, which happens when using a normal VPN. The platform is not only fast but also secure, and therefore offering a more lively viewing experience.
The Advantages Of Using The Monvid Platform
It is very affordable – The creators of various contents in this platform will be paid depending on their output. It, therefore, does away with the need of paying much money for the subscription.
Users Will Have Improved Privacy – As earlier indicated, Monvid has been entirely built on the Blockchain network and this ensures that every data of the user is usually secure. Apart from that, it also offers encrypted transfers of data.
There are no adverts – Monvid gives users an opportunity to enjoy not only uninterrupted but also smooth watching experience that is free from any kind of advert.
Monvid Token Features
Token name: MVID Token
Token type: ERC20
Payout: MVID tokens will be sent to your ETH wallet
Total ICO supply: 200,000,000 MVID
Price: 1 MVID = 0.00005 ETH
Tokens available for sale: 140,000,000 MVID
Pre-sale period: April 15 – April 30, 2018
ICO sale period: June 1 – August 31, 2018
Soft cap: $500,000
Hard cap: $5,000,000
Accepted cryptocurrencies: ETH
Bonuses and Token Allocation
Monvid has one of the most complex yet rewarding bonus program of any ICO. They have fixed bonuses and extra bonuses for larger investments. This is what you will enjoy when you contribute to the ICO
Monvid has used the following strategy to allocate the 200 million tokens mined. The tokens allocated to the public sale should they remain will be destroyed.
Token sale – 70%
Reserve – 15%
Team – 10%
Bounty – 5%
Funds Distribution
Should they meet their target of $500,000, the soft cap, this is how they will distribute the funds
35% – Marketing
30% – Software development
15% – Hardware, asset, and infrastructure
10% – Legal expenses
5% – Administrative expenses
5% – Sales and partnerships
The Team
Monvid is Antonio Jacobs' brainchild and CEO alongside Steven Morris the CTO. The rest of the team is made up of a marketing manager, a backend developer, a blockchain developer, a UI developer, a network expert, a software developer, and a streaming expert. They have not disclosed the board of advisors, nor the partnerships.
For more info about this platform, and also to join the network, endeavor to visit:
Username: taktar933