Bitdepositary is the first and biggest new generation Q-ratio Market ICO Founding Community with integrated payment solutions to make your ICO investments more secure! We serve as the mediator & payment platform for project managers and a large community of investors.
Inside the Bitdepositary space you will find TeamBit. This "organisation" (not in the traditional sense) consists of a team of experts, community leaders, accountants, and legal advisors who serve the Bitdepositary investor community. Think of them as a council. The actions taken by TeamBit offer more protection against scams, token theft, and wrong investment decisions. All for the aim of bringing forth a marketplace that presents you with profitable and sustainable ICO projects.
The Current Issue
There is no doubt that terribly executed ICOs are still lingering in the market. Perhaps not all of them are scam, however a significant amount of them fail to deliver the initial solutions or promises made to the crypto investors community. Not only that, but the majority of ICOs in the blockchain space focus on Communications (20.5%, in quantum of > $2,008,000,000), Finance (15.5%, over $1,512,000,000), and Trading & Investing (10.0%, over $976,000,000) in the first 5 months of 2018, according to CoinSchedule. While other industries receive little to no funding. To add more, 434 startups raised $9.8 Billion through initial coin offerings in the same timeframe. How many are delivering up to the expectations? That is a lot of crypto capital invested without knowing if it is indeed the right investment.
Preventing Token Theft
The cryptocurrency world is a huge gold rush, therefore has triggered the rise of wallet hackers on unsecured ICO platforms. Not only that, but breaches and cyber security attacks happen on a regular basis.
Identifying Scams
Even the most promising ICOs can be scams. A recent study, based on publicly available sources and information, claims that nearly 80 percent of ICOs are either scams or have failed to deliver based on investors' expectations.
Supporting Wrong Decisions
There is no dependable criteria for assessment of plausible ICO investments, so they deem it fit to create a space that helps you eliminate bad investment decisions.
Solution
So how can they help the next wave of $9.8 Billion and the investors? Or the next 434+ startups raise funds, and make sure they deliver? They plan on offering startups in these lesser "funded" industries a chance & get their idea reviewed by TeamBit, experts, and the investors community itself. All while protecting the community and making sure their funds are invested in the right projects. When they think of ICOs emerging in the blockchain space, role becomes one of evaluating the crypto world for the most useful, relevant, and profitable ICO investments, in areas relevant to us, to users and investors likewise by partner lawyers, tax consultants, and specialists to ensure proper regulation.
Our Solution Against Token Theft
Each token sales runs through system. Therefore,they reduce the risk of token theft with certain security measures when configuring privileged user accounts. This removes any possibility of impersonation and overrides that may happen in the marketplace.
Protection Guarantee Against Scams
They are able to ward off scams with our verification process that consists of lawyers, tax consultants, specialists, users*, and community users**, all joining forces before project acceptance. Every project leader has to verify himself and his team before using platform (KYC protocols for teams).
Prevention of Wrong Decision-Making Processes
What you read, watch, and believe in will impact not just your profits, but also the pulse of your everyday life. Therefore, they help users with little experience make better investment decisions with open voting system for plausible and secure ICOs.
Why should a user or community user vote
Users get their tokens (bounties) free of charge from the project owner, should the project successfully reaches the soft cap. Therefore, every company presenting its project must spend tokens on anyone who voted in support of or against the project using our systems. The user receives the token directly into the wallet and thus becomes a customer. The more points a user has, the more tokens he/she gets.
Features
Integrated Payment Solutions with Credit Card
In a bid to streamline operations, consolidate data, and improve customer service, they implemented an integrated credit card payment system that improves profitability, reduces accounting errors, and enhances payment for users.
User has the option to invest with different currencies in future projects
Combining various cryptocurrencies together puts you in a very good position for long-term returns and robust portfolio. Leverage community's diligence and expertise of financial innovation to easily invest with up to 25 different currencies.
Multiwallet and tokens from successful ICOs are included
The marketplace offers a secure and lightweight multi-asset enabled wallet for its users. You can swap your coins within your wallet. They support currencies such as Ethereum, Bitcoin, Litecoin, Dash, Zcash, with others to follow shortly.
BDT Token
They token serves as a reward for users who decide to invest early on a project before acceptance into the community. These pre-investments can only be made with our BDT token. Therefore, BDT tokens are necessary to later get 25% more tokens on the pre investments of ICOs made via marketplace. If the project goes live, the user can invest using other tokens outside the BDT token.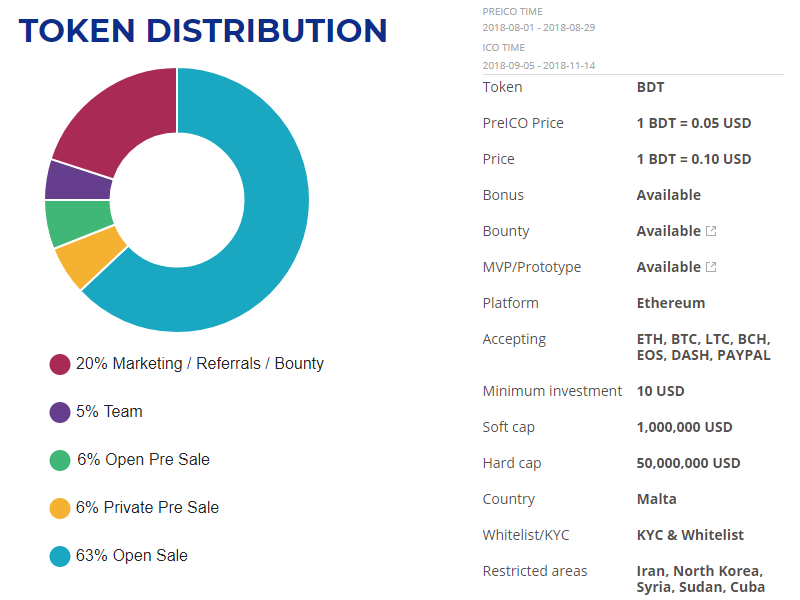 For more info visit:
Bitcointalk link:
https://bitcointalk.org/index.php?action=profile;u=1041405