Cryptocurrency exchanges are platforms where cryptocurrency assets are traded for fiat and vice versa. The blockchain technology and cryptocurrency industry has begun to make immense impact and is playing a major role causing a major revolution technologically and this is affecting just about every sphere of our lives including health, business and even academics, in fact projected growth of this industry is estimated to be over $2 trillion by 2020. the mainstream public accepting the cryptocurrency industry Is a major reason for its growth and the fact is IT would continue to grow and usher us into a new world that is truly revolutionary, a world where endless possibilities exist and if you can think it then you can do it. We don't need any soothsayer to tell us that this is an opportunity that has presented itself to us and it is often said opportunities are the bedrocks that makes even impossible things birthed.
WHAT IS THE SATURN PLATFORM AND HOW UNIQUE IS IT?
It is a very unique blockchain oriented platform that seeks to provide the best services and experience in trading of cryptocurrency assets to every of its users. It provides a very convenient, well secured direct ATOMIC EXCHANGE for trading of cryptocurrency assets in addition with a reliable third party guarantor which further ensures your safety and security in crypo-trading. Its purpose is to create a unique, safe, highly secure, user friendly, reliable, transparent, trustworthy, cost effective and efficient cryptocurrency platform where you and I can trade our cryptocurrency assets for other tokens or currency with the best of satisfaction. It provides a qualitatively new, liquid and safe over the counter market for cryptocurrency assets trading.
It is unique because It provides a secure over the counter crypto-assets trading through the atomic protocol i.e from wallet to wallet with a third party warranty. It also ensures the buying and selling of large amount of crypto-assets at the best-proposed prices. It seeks to create additional LIQUIDITY for low liquidity crypto-assets. Safe cross exchange as well as a convenient interface in your browser with good risk control by eliminating the transfer of cryptocurrency assets to the exchange making it a wallet to wallet transfer process at the shortest time possible.
The XSAT TOKENS is the utility token that will be used for transactions within the platform and which is important to the business model of the SATURN platform. It is an ERC-20 token with 75% planned to be sold during the token sale. Private sale begins November –December 2018 up to 250 000 000 XSAT. Price of 1 XSAT= $0.075, pre-sale price is at $0.1 per XSAT token and public sale price 1 XSAT= $0.125. accepted payments include BTC, ETH, EOS, BCH, LTC, XMR, XRP, DASH. It will be used as a quotation asset in Saturn services. (For more ICO details see links below for more details), don't let it pass you by. Truly amazing right? SATURN EXCHANGE/TRADING PLATFORM WILL BE THE TRADING PLATFORM amongst all trading platforms. Be a part of this great innovation be part of the SATURN PLATFORM.
SATURN TOKEN
The purpose of issuing Saturn token (symbol: XSAT) is to use it as a liquidity asset as well as a quotation asset in Saturn platform. In addition, Saturn team also plans to make XSAT token become a collateral asset but this decision will be considered later.
XSAT token is based on standard ERC-20, Ethereum blockchain. The information of XSAT token and token sale are following:
XSAT Contract address: 0x0d9e614937a308438337a2999acf64fc86bf098a (Do not send anything to this address! This is not a smart contract.)
TOKEN DISTRIBUTION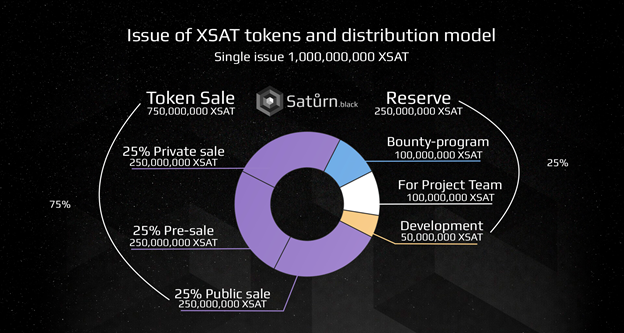 TEAM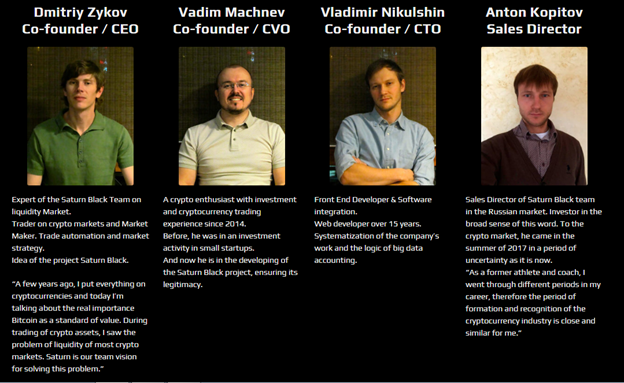 Saturn social media channels
0xc06242eFA5AB8D4ffCfF826C859FAf7588a356D6