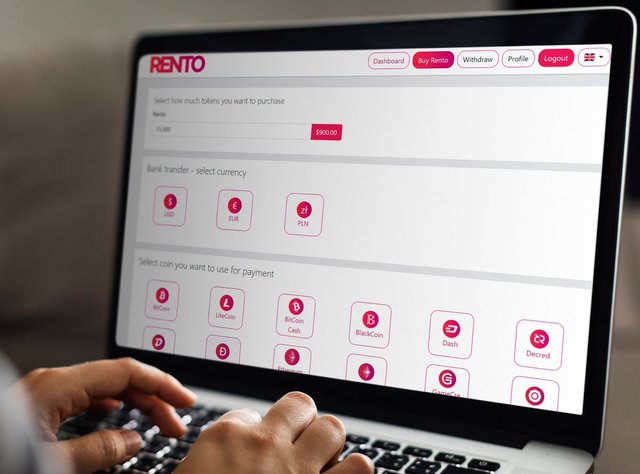 About Rento
Rento is proposing a global sharing platform for businesses and individuals that allows renting of underutilized assets. Unlike competitors in the market, Rento provides rental of any item to any individual, rather than focusing simply on one market (cars, apartment share). Furthermore, Rento leverages blockchain technology to implement a trusted economy through smart contracts that ensure rental conditions are met and that the parties can count on one another to deliver and return the product or service. Rento aims to introduce the sharing economy in the daily lives of people everywhere, reducing waste in the economy and allowing more people to enjoy a variety of services and products without having to shoulder the cost of owning every type of item they use.
Rento is an app connecting business owners with clients and rental services with users. It also makes room for the development of sharing economy. Why buy a rotary hammer if your neighbor has one in his garage? Why should your vacuum cleaner stay in the closet for 90% of the time if you can rent it out? On top of that offering your services in Rento gives you additional earning opportunities. And most importantly, why use several different apps to book, rent or share, if all of your needs can be met by just ONE app? Rento is a game changer for millions of devices, books, vehicles and other things that collect dust instead of profits for their owners.
Rento is creating a software solution for individuals and businesses to share items and services that, until now, needed to be purchased. The Rento solution is based on the increasing "sharing economy" market, but rather than focus on one vertical, Rento is providing a complete solution, including smartcontracts, for anyone to rent or borrow any item or service. In the same way that ecommerce sites such as eBay do not limit themselves to one type of item, Rento is providing the sharing economy marketplace. Rento is leveraging blockchain technology for the smartcontracts that ensure trust throughout the system.
The concept of sharing economy is built around the use of economic resources to their fullest potential and that is exactly what Rento is aiming to accomplish. Rento proposes a mobile application (and web platform) that allows users to list their unused assets for renting or sharing on its platform. Every listing on Rento includes the key aspects of the asset or resource such as its rental cost, availability schedule, images or video of the actual item, specifications, and terms and conditions specific to the asset.
Rento proposes multiple products and services segments, with its initial focus on businesses and service providers to populate the platform with a large stock of available resources, ensuring that the platform initially has enough inventory for consumers to find it appealing. Rento will be launching with primary listing segments such as household items like lawn mowers or snow blowers, through more commercial offerings such as shared offices and conferencing facilities, construction equipment, parking spaces, and even underutilized human resources. In addition to developing a sharing platform, Rento plans to set up at least one bricks-and-mortar rental store as a proof of concept for its sharing ecosystem.
To this effect, Rento plans to utilize blockchain technology to:
Secure international and local transactions
Utilise smart contracts for security deposits
Ensure that reviews of items lenders, borrowers, services and items are real and verified
Reduce friction for transactions
Verify the transactions themselves, and ensure payment for services as well as compensation through smart contracts for any breaches of the contract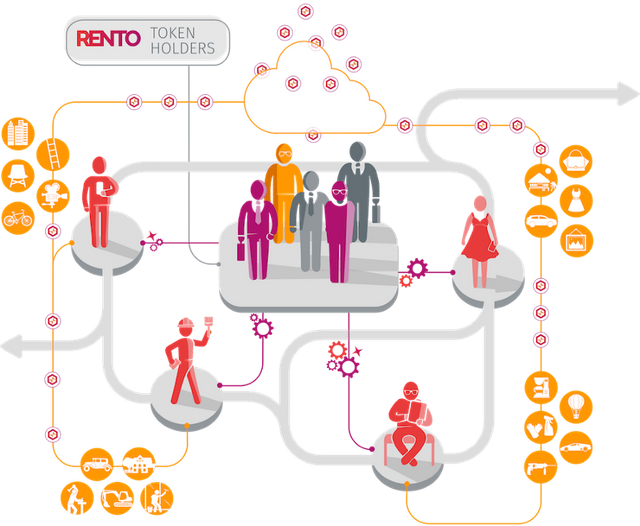 In this ecosystem, the blockchain is needed to generate trust and form smart contracts to settle the deals between individuals and ensure financial compensation for renting. Just think about all the items you have at home, unused. Think about the garage and its tools: when do you use them? Just let them make money for you!
The sharing economy is not new, people are already renting out their cars through several sites. But cars are quite expensive and what if someone breaks it… so it might just be easier to rent out your other items. Rento will therefore first focus on household items before venturing into other fields, and they will even set up an actual physical shopfront too, to highlight the capabilities of renting anything.
Rento will focus on Europe first, where it sees AirBnB and Turo as 'competitors'. However, those have specifically focused on vacation housing and car sharing, and therefore Rento is well suited as a new company in the area of household goods.
Another items to take into consideration is that these are centralized platforms, where you must trust the AirBnB or Turo company to make everything work for you. Using blockchain, Rento transforms the sharing market from a centralized system to a decentralized peer to peer system.
The app interface is clean, simple, and understandable. While development is still to happen, they've taken input and learned from the key players in this field and understood that the interface should be for everyone.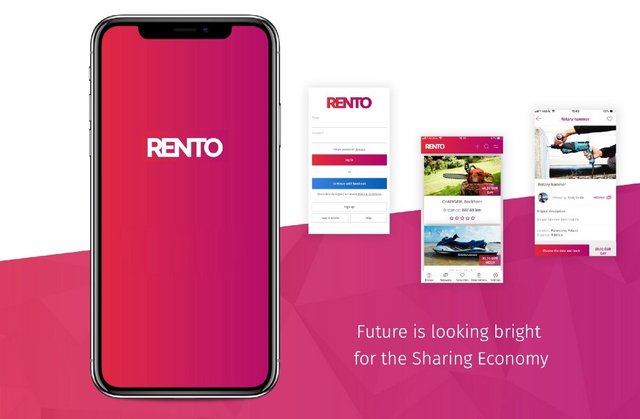 Rento Main Features
Renting Everything you want just a click away
Sharing Millions of devices and products that are just lying around can be put to USE!
Comfortable All your needs can be met by one interactive, intuitive App.
Profit from Rento Find out what are the benefits of being a Rento Token holder!
Security We put security and safety of transactions above all else. That is why we are implementing blockchain into our system!
Cutting edge All transactions will be done with cutting edge technology! Join us in a new era of renting and sharing.
Environment for business We are creating a global network of business and clients. An ecosystem for the sharing economy.
Think global ACT LOCAL! By developing possibilities for sharing, we are reducing consumption in the world. Rent out unused devices and make sure our globe is not being polluted!
Diversification Enjoy the luxury of having options. Don't limit Yourself. Rento – freedom of choice
About Token
Rento creates an ecosystem for the development of sharing economy. Not only can you reduce consumption, but also profit from sharing unused things you already own. At Rento take care of our investors. By producing cutting edge blockchain technology for securing transactions between users, we create demand for Rento token. While using our blockchain will be optional on our app, it is safe to assume that more users we have the more our token will be worth. Don't wait!
Rento Token is intended for release on servers with cryptocurrencies. Although the initial Rento token is based on ERC 20, the company plans to move Rento to the Proof-of-Authority Blockchain . Although all transactions in the Rento application will be based on intelligent contracts, and it will be possible to make transactions and security deposits in all currencies (crypto and fiat), smart contracts and transactions will be charged only in Rento tokens .
Token name Rento
Ticker Symbol RTO
Start of public sale 16.10.2018
End of public sale 28.02.2019
Total supply 600 000 000 RTO
Decimal places 8
Token standard ERC20
Network base Ethereum Network
Tokens for sale 264 000 000
Price range for token sale $0.01 – $0.12
I suggest you invest in RTO, for that the main requirement in investing in RENTO RTO altcoin You must first register on the site RENTO press this link
https://rento-app.io/
This company needs to be preserved and must get attention in order to obtain a balanced situation. there are so many benefits if you all join this company. if you do not pay attention to the balance of this company, you will lose an opportunity that you deserve. The positive impact of this company is to get a distinct advantage for your needs.